NEWS
La Revente
21 October 2022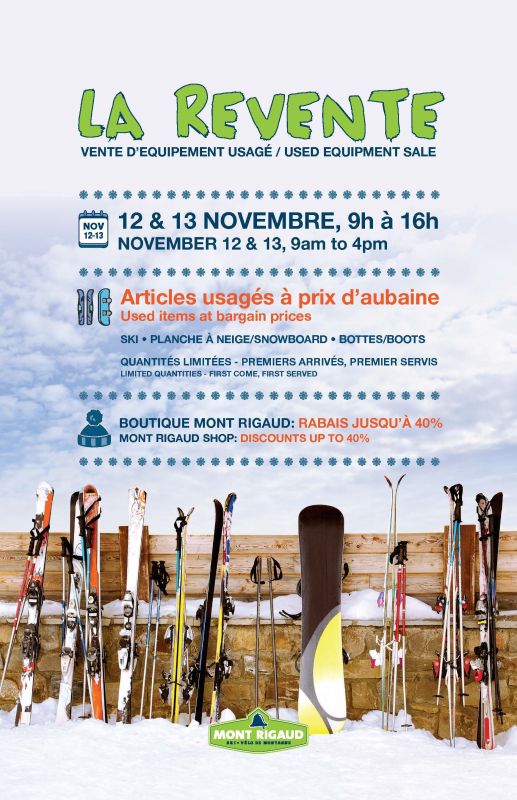 THE RESALE - USED EQUIPMENT AT VERY LOW PRICE
On November 12 and 13, between 9 a.m. and 4 p.m., the annual resale of rental equipment will be held at Mont Rigaud. Skis, snowboards and boots will be available at reduced prices. Prices will be determined based on the condition of the equipment. The majority of the equipment is toddler or junior size, but we will also have equipment for adults as well.

EVENT DETAILS
We will operate on a "first come, first served" basis.
• A limited number of customers will be able to shop at the same time.
• It will be possible to buy coffee, tea and some snacks to make the time you could spend in line more enjoyable.
• Accepted methods of payment are: cash, credit cards and debit cards.

COLLECTION OF SEASONAL RENTALS
We would like to remind you that an appointment is mandatory for the collection of seasonal ski and snowboard rentals. The appointment is chosen at the time of the online purchase of seasonal equipment and it appears on your receipt. No equipment may be collected outside scheduled appointments. Quantities are limited.

SHARPENING, WAXING & BINDING ADJUSTMENTS
The certified technicians of the Atelier Pro Mont Rigaud will be present between 9 a.m. and 4 p.m. to ensure the deposit of your equipment. The complete tune-up, which includes sharpening, waxing and binding adjustments, costs $35 +tx. The service will be completed in a few days.

We look forward to meeting you on November 12 and 13!