ALL RATES
All reasons are good for coming to Mont Rigaud and our varied packages allow you to make the most of your ski or snowboard experience.
1
Our rates for lift tickets.
2
Our rates for season passes.
3
Daily or seasonal equipment rentals.
4
For groups of 20 or more.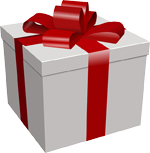 Gift cards available
Looking for a great gift idea? Our gift cards are sure to please on any occasion! Mont Rigaud's gift cards are easy to use and do not have an expiry date: they allow recipients to purchase the product of their choice.