SENIOR CLUB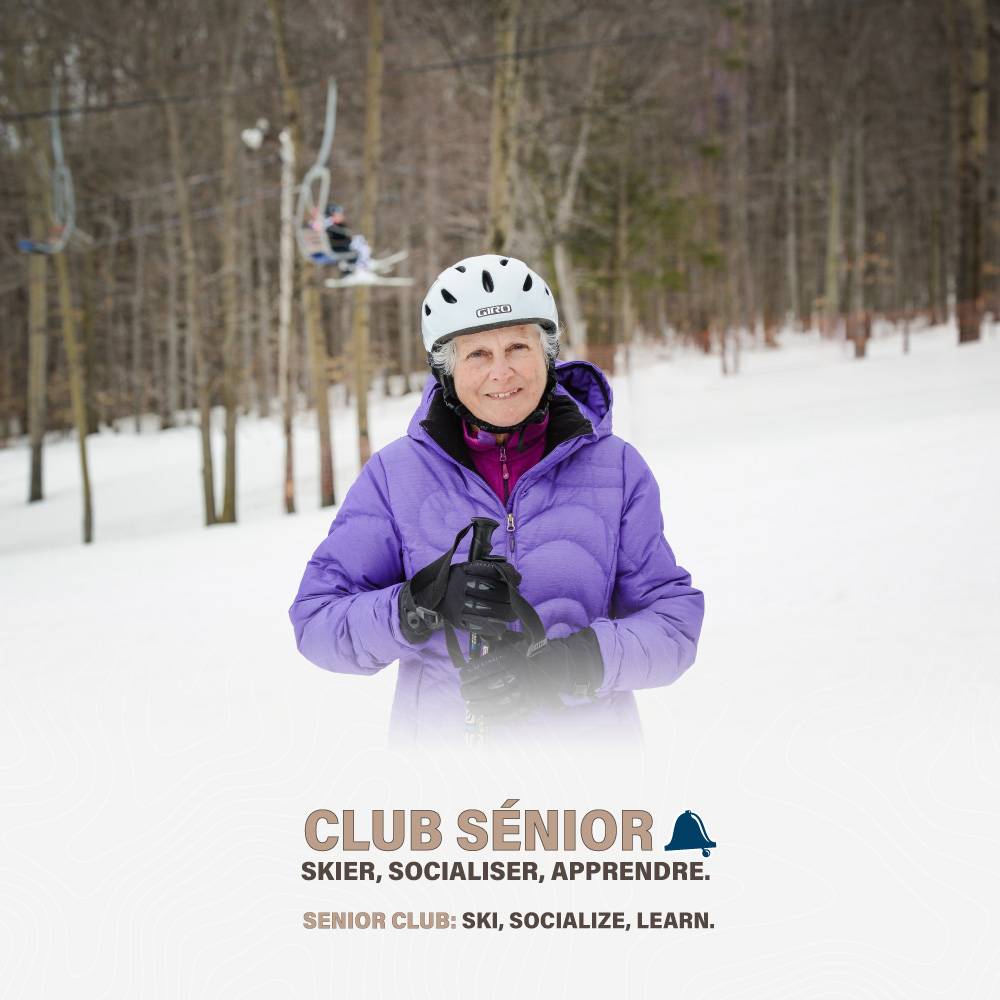 We are very proud to present our new program focused on developing and maintaining healthy lifestyle habits for our senior clientele. At the initiative of one of our experienced ski instructor, we are launching an 8-week lesson program, intended for novice to intermediate level skiers. This program is for seniors and/or retirees who want to get together to ski, socialize, and perfect their alpine skiing skills.
For a 2-hour session per week, for 8 consecutive weeks, members of the Senior Club will meet for a lesson led by a certified, experienced ski instructor who loves skiing and our mountain. A coffee/hot chocolate break will be part of the session, to build relationships and break isolation.
For skiers aged 55 years and older, novice to intermediate.
8 week Program: Starting on Tuesday January 9, 2024
2023-2024 Season

Days and

Times

Lesson

 

55 years and older

 

 

Tuesday 9:00am to 11:15am 

(2h total of lesson)

$299

Access to the lifts is included during the lesson only.
Coffee/hot chocolate break included.

Taxes are not included.
Taxes are NOT included in our prices.
Registrations for the Senior Club program begin September 1st, 2023.
The Senior Club program is available only to those aged 55 years and older - spaces are limited.
Access to the lifts is included during the lesson (only).
Any change to a registration made prior to the start of the program results in a 25$ administrative fee and is subject to remaining availability.
No changes permitted after the start of the program: Chosen day and time upon registration apply for the entirety of the program.
Before the start of the program, a refund may be requested without justification. After the start of the program,  a prorated reimbursement may be requested only for a major medical reason or due to a move. Proof of the situation is required. Prices of all programs include a non-refundable administrative fee of $25.
No refund, credit or make up class in case of absence, regardless of the reason.
The ski school reserves the right to change the schedule or to cancel and postpone a lesson. In case of cancellation due to weather conditions, the cancelled lesson is automatically postponed to the end of the 8-Week program by adding an extra Saturday or Sunday. It is possible that one season may count more than one postponed lesson.
WEATHER - The parent or the participant is responsible for verifying if the ski hill is in operation or if there is cancellation of the courses. No individual notice will be sent.
Rates are subject to change without prior notice.
Age as of December 31st, 2023.