NEWS
Jam Sploestyle Junior Les toasters - January 15, 2023
5 January 2023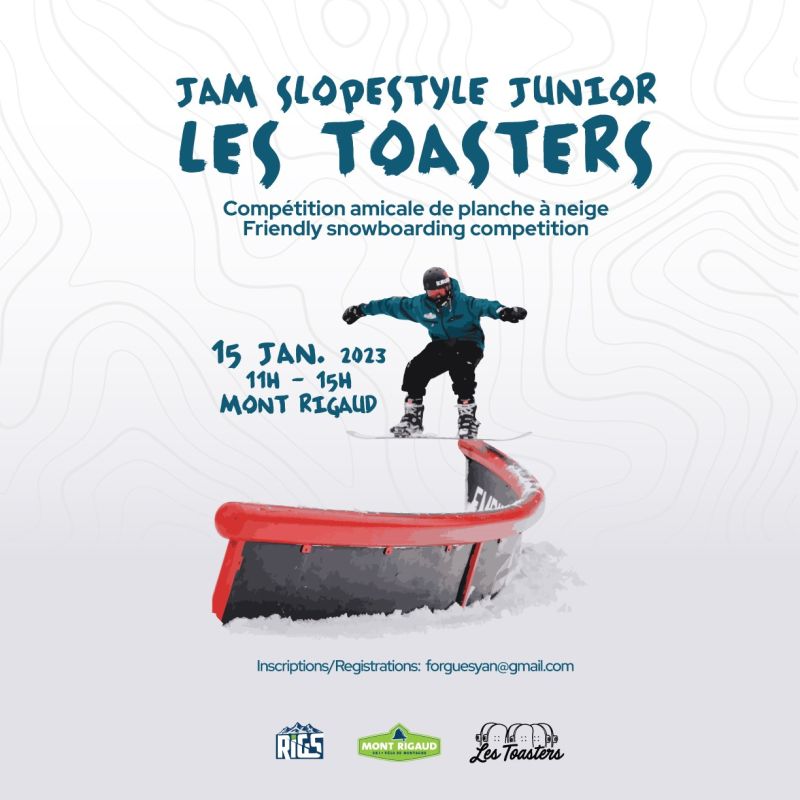 Les Toasters' Junior Slopestyle Jam will take place in the Mont Rigaud Snowpark on January 15th, from 11:00 am to 3:00 pm. The event is a friendly snowboard competition. The goal is to have fun while experiencing something similar to a Quebec Cup event. Competitors aged between 9 and 16 will be able to demonstrate their talent on a closed circuit of 3 to 4 features of the snowpark. This friendly "jam" is above all an opportunity to introduce young riders to a competitive environment, in a spirit of discovery and learning.
REGISTRATION
• Reserved to SNOWBOARDERS, aged between 9 and 16 years old (as of January 15, 2023), enrolled in a program of the École de glisse Mont Rigaud or those that have a winter 2022-23 seasonal membership at Mont Rigaud (Unlimited pass, Weekly pass, Evening pass or Combined pass)
• $10 registration fee, payable on site the morning of the competition
• 20 available spots
• To register, send an email to forguesyan@gmail.com
EVENT DETAILS
• January 15th, 2023, from 11:00 am to 3:00 pm
• 20 competitors, boys and girls
• 2 judged descents per competitor
• Mont Rigaud Snowpark, 321 des Érables, Rigaud
• Entertainment, DJ, attendance prices
Spectators with a valid ticket will be able to attend. They will gave to ski or ride to the snowpark. It will not be possible to walk to the competition site.
For more details, please communicate with Yan at forguesyan@gmail.com.