NEWS
FALL ON THE SUMMIT AT MONT RIGAUD!
17 September 2021
For a 32th consecutive year, the Mont Rigaud chairlift ($) will allow you to enjoy the fall colors weither you are alone, with friends or with family.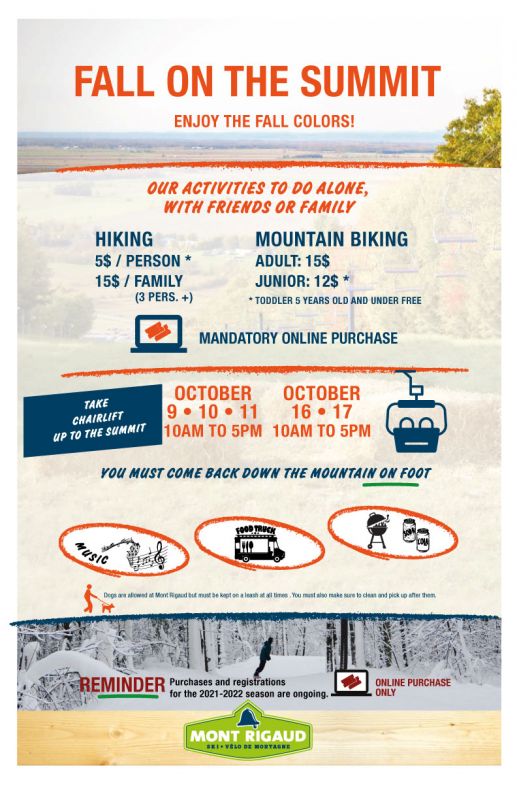 Acoustic singers performing  
SATURDAY
SUNDAY
MONDAY

10:00am to 5:00pm

DJ Simon

10:00am to 5:00pm

DJ Simon

10:00am to 5:00pm

DJ Simon

1:00pm to 5:00pm

Blush

en formule trio

1:00pm to 5:00pm

Jean-Michel Soudre

12:00pm to 4:00pm

Pat Gemme
WARNING
For conception reasons related to safety, it is possible to use the chairlift to « go up » and not to « go down ». You must disembark at the top of the mountain and so, by speeding up your walk to quickly clear the disembarkation zone. The chairlift does not make any stop, except in the case of an emergency (only). You must walk back down the mountain.
NO CASH PAYMENTS
Cash payments are not accepted. Contacless payment only.
ANIMALS
Dogs are allowed at Mont Rigaud. However, for the security and respect of other visitors, you must keep them on a leash at all times and you must clean and pick up after them.
SMOKE-FREE ENVIRONMENT
Mont Rigaud is a smoke-free environment. All visitors and employees are required to comply with this policy: smoking of any kind (tobacco, electronic cigarette, etc.) is prohibited anywhere inside and outside on all the Mont Rigaud property, except in the two (2) designated smoking areas.