SERVICES
Located inside the main chalet, the Mont Rigaud shop offers a selection of ski and snowboard accessories such as helmets, goggles, gloves, mitts, hats, balaclavas, neck warmer, socks, harnesses for children and many other items related to winter sports.
Taxes are not included in our prices.
---
Seasonal lockers ($) are available in the basement of the main chalet, allowing you to keep your equipment in an easily accessible and warm environment all season long. These lockers can hold up to four (4) ski equipment or two (2) snowboard equipment - excluding boots. In great demand, these lockers can be booked starting from September.

Single-use lockers ($1 every time you secure the lock) are also available to store your belongings safely while you enjoy the slopes.

Mont Rigaud is not responsible for lost, forgotten or stolen items.
---
If you take good care of your equipment, it will last longer, and you will be safer!

At the beginning of each season, you should wax and sharpen your skis or snowboard. This is also the time to repair imperfections and the grooves on your equipment. Sharpened edges grip the snow better during turns.

These services ($) are available at Mont Rigaud, from Monday to Friday (upon availability), by a qualified technician.

You should also take advantage of this opportunity to have your bindings adjusted: they are the guardians of your safety. Remember to bring your boots, as the technician will need them in order to adjust your bindings, and remember to mention your skill level, weight, and height.
 
---
Our ski patrol team, all formed by  l'
Institut national de secourisme du Québec (INSQ)
, ensure a safe environment with the supervision of sporting activities at the resort and provide first aid when the situation requires.
The Mont Rigaud infirmary, located in a building next to the main chalet, is adapted to be very functional. All the necessary equipment is available to help you get back on your feet or make you wait before the arrival of the ambulance.
---
To fully enjoy an outing on skis or snowboard, it is important to stop occasionally to rest, rehydrate, and eat!!
Mont Rigaud offers foodservice ($) inside the main chalet. It is possible to find, at the cafeteria or at the bistro, several meals, beverages and snacks options.
Lunch boxes are allowed in the cafeteria area. However, we ask you to leave the coolers (and/or any cooking appliance) in the car.
After 6pm, the bistro is reserved for guests aged
18 and older.
This section is open on Saturday and Sunday (only) as well as during the Holidays and the School Break.
ALLERGIES:
Even with precautions, our products may have been in contact with allergens (egg, peanut, nuts, milk, etc.).
MICROWAVES:
For food safety reasons, no microwave oven is available for customers.
Mont Rigaud is a member of the
Association des restaurateurs du Québec
.
---
With over 900 places available, the Mont Rigaud parking is FREE during winter season and gives direct access to the main chalet and mountain.
Drop-off zone - 5 minutes
When you wish to pick up or drop off passengers at Mont Rigaud, you can stop your vehicle in the drop-off zone located in front of the main chalet. However, you may not park there.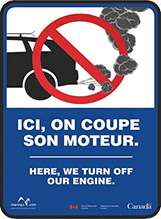 "Stop your engine" campaign
Concerned to do its part to reduce its environmental footprint, Mont Rigaud participates, since 2011, in the "Stop your engine" campaign.
To increase the awareness of drivers to the impacts of idling and to encourage them to stop their engine, you will notice signs located in different places in the parking and the drop-off zone.
We invite you to turn off your engine when your car is stopped. By doing this simple gesture you will contribute to the fight against climate changes!
---
Mont Rigaud offers Free Wi-Fi service inside the main chalet. There is no access code required to connect.

Browsing the internet, checking e-mail and visiting social networking web sites are all permitted. However, we ask you refrain from streaming videos and from downloading or uploading large files.

In high traffic period, users may experience problems connecting to the network due to its limited capacity.