NEWS
FALL COLOR WEEKENDS AT MONT RIGAUD!
26 September 2022
For a 33th consecutive year, the Mont Rigaud chairlift ($) will allow you to enjoy the fall colors weither you are alone, with friends or with family.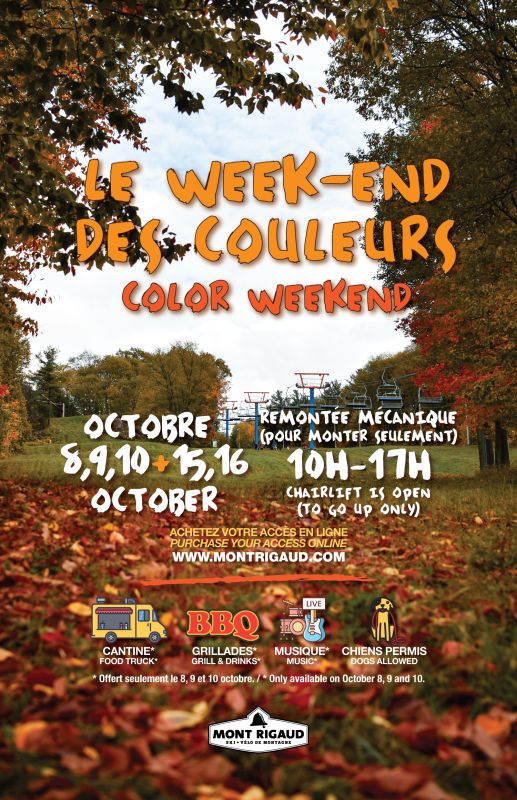 Our ski lift will be open from 10 a.m. to 5 p.m. It will allow you to admire the fall colors in the trees as you slowly reach the top. Once there, you can admire the spectacular panorama. The more adventurous will continue their route on foot in the mountain, before descending on foot.
RATES FOR ENTRY ON THE SITE

INCLUDING ACCESS TO THE CHAIRLIFT

Adulte (18 ans +)
5$
Junior (6 à 17 ans)
5$
Bambin (5 ans et -)
Gratuit
Plan familial (3 personnes et plus, même adresse)
15$
 
SATURDAY OCTOBER 8
SUNDAY OCTOBER 9
MONDAY OCTOBER 10
OCTOBER 15-16

Chairlift

(to go up only)

10am to 5pm
10am to 5pm
10am to 5pm
10am to 5pm
Live music

12:30pm to 5:00pm

alternating with 

12:30pm to 5:00pm

alternating with

12:30pm to 4:00pm

---
BBQ and cantine on wheels

Regular hot-dogs and Oktoberfest hot-dogs, Beaver tails, Pizza bites

Regular hot-dogs and Oktoberfest hot-dogs
Horseback riding tours
By Les Écuries Martin
---
Mountain bike kiosks
Cycle Village Hudson
Cycle Paul
---
BBQ, fireplaces and sauna kiosks
La Boutique Piscines et Spas and its collaborators
---
WARNING
For conception reasons related to safety, it is possible to use the chairlift to « go up » and not to « go down ». You must disembark at the top of the mountain and so, by speeding up your walk to quickly clear the disembarkation zone. The chairlift does not make any stop, except in the case of an emergency (only). You must walk back down the mountain or use the tractor-trailer service offered only to people with reduced mobility. 
NO CASH PAYMENTS
Online and contacless payments are priviliged at Mont Rigaud.
Plan to have cash on you for the kiosks and other activities. 
ANIMALS
Dogs are allowed at Mont Rigaud. However, for the security and respect of other visitors, you must keep them on a leash at all times and you must clean and pick up after them.
SMOKE-FREE ENVIRONMENT
Mont Rigaud is a smoke-free environment. All visitors and employees are required to comply with this policy: smoking of any kind (tobacco, electronic cigarette, etc.) is prohibited anywhere inside and outside on all the Mont Rigaud property, except in the two (2) designated smoking areas.