NEWS
RELOADABLE ACCESS CARD
27 November 2019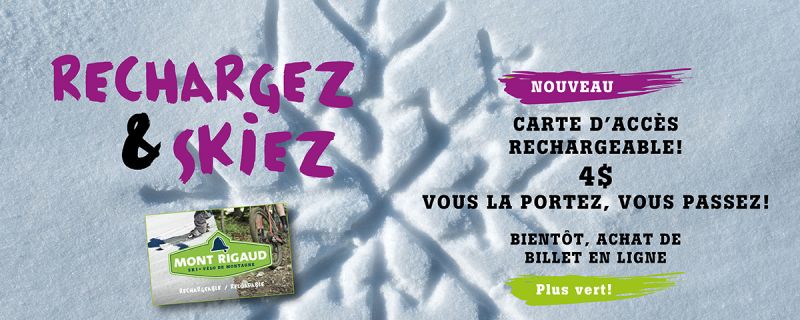 Mont Rigaud says goodbye to old sticky tickets and says hello to the reloadable access card!
The Mont Rigaud reloadable access card is an RFID card (radio-frequency identification) that does not need to be at sight to be used. It is as simple as keeping it in a coat pocket while at Mont Rigaud for the chairlift gate to scan the card. To optimize the good scanning and functioning of the reloadable access card, we recommend having an exclusive pocket for the card, isolated from cellphones and credit or debit cards.

From now on, anybody wishing to buy a ticketing product (day, evening or hourly ticket) must also leave a 4$ refundable deposit to get a reloadable access card. The reloadable access card is mandatory because it holds all of the previously bought ticketing products that will allow access to the chairlifts. Ticketing products are valid from the time of their purchase and until the end of the ongoing season. No refund or exchange will be granted on ticketing products.

Season pass holders do not need to pay extra for the reloadable access card because its price is already included in the season pass rate.

In every case, the reloadable access card is personal and must only be used by its owner (non-sharable). Any misconduct will result in loss of the right of access without notice or refund.

Mont Rigaud encourages its loyal clientele to keep their reloadable access card to be greener! The Mont Rigaud reloadable access card is reusable season after season. Simply reload the card with new ticketing products when needed.

Soon, it will even be possible to purchase ticketing products online. No need to come at customer service to buy tickets and reload the Mont Rigaud reloadable access card. Reload and ski!

Customers that do not wish to keep their reloadable access card, even with all of its advantages, must bring their Mont Rigaud reloadable access card to customer service during opening hours to obtain the refund of the 4$ deposit. Certain conditions apply.